When LeBron joined the Lakers, his family adopted Indigo-Sky, a French bulldog puppy. They've shared numerous images of the cute dog since then, but Indigo-Sky is arguably most known for the moment James' wife, Savannah, jokedly offered to give the dog away on Instagram:
Let's face it, we've all been there with a dog. NBA families are exactly like us!
KING
Cane corsos are large mastiff-like dogs native to Italy that are used for hunting and guarding. King, according to James, seems enormous and scary but is really just fun and playful. LeBron James is 6'9 and an absolute beast on the court, so we agree that he appears 'large and fearsome,' but we'd love to find out for ourselves if he's fun and playful! Come meet us, LeBron, and bring King so we can play ball.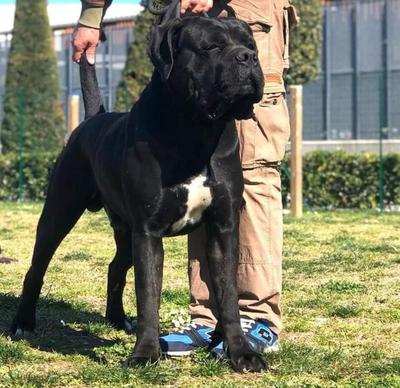 INDIGO SKY
When LeBron James signed onto the LA Lakers, he got his family a french bulldog puppy named Indigo Sky to celebrate. Indigo Sky is a bratty little bully, and once took a poop on James' kitchen floor while his kids were playing a mock-interview game. The dog is on thin ice — we'll see if LeBron's family trades the pup in the next season.
Lakers